Return to Headlines
Congratulations to Fraser High School's Students of the Year!
Emily Marlowe - Family and Consumer Science Student of the Year
Emily has attended Fraser Public Schools for seven years. She is involved in the Student Council, Link Crew, President of National Technical Honor Society, National Honor Society, and Skills USA. She plans to attend Michigan State University to obtain a Bachelors in Special Education with a minor in psychology after graduation.
Emily has been a strong contributor in all her classes. For example, in her future teacher course, she is very inquisitive and is actively involved in course discussions. She has even made excellent suggestions to further enhance the opportunities provided to students in relation to the curriculum. She recently competed in SKILLS USA and won GOLD for t-shirt design and presentation.
Her leadership skills are very evident, as she effectively holds many important positions in the building. Kindness Week Founder and Facilitator, Charity Week Chair head, Boat Regatta Chair head, Class Vice President, Link Crew Commissioner (2019-2021), and National Technical Honor Society President (2020-2021).
Emily is very organized and knows how to successfully plan for, and execute meetings even in a virtual setting. She works well with others and ensures that everyone has opportunities to contribute in group settings.
---
Emily Cairney - Physical Education Student of the Year
Emily is kind, happy, inclusive, responsible, a hard worker, athletic, well-liked by her peers and her leadership qualities make her an absolute pleasure
to have in class. She does well with everything athletic and also provides a safe space/support for those around her who do not.
She has taken PE A and B, Advanced Basketball & Fitness & Creative Movement as well as 9th-10th Basketball, 9th-12th Cross Country, 9th-12th Track and 9th-12th HOSA. She is interested in becoming a dental hygenist.
---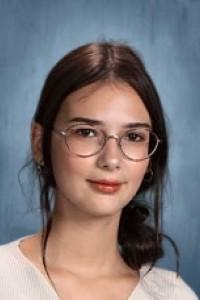 Abigail Spear - Art Student of the Year
Abby has been at FHS for all four years and has worked her way through the Art Department in every class. She is planning on taking her skills and talents to the College For Creative Studies next year as she pursuits a career in Art Design and Photography.
Abby is a dedicated artist always trying to push herself to new things with different mediums and styles. She is willing to not only push herself but by example those around her.
This year Abby's goal was to complete artwork for the Scholastics Art Competition as well as college entry. She submitted 6 pieces in photography and mixed media. We are still waiting to hear the results of Scholastics but in January Abby heard that she had been accepted to CCS and awarded a scholarship that starts at $70,000.
---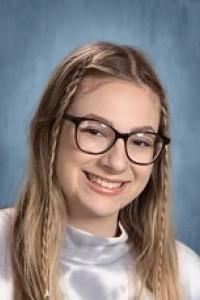 Mackenzie Bisdorf -English Student of the Year
Mackenzie has attended Fraser since elementary school. Her first year in Fraser was her sixth-grade year. She has been in Quill & Scroll throughout her junior and senior years. She was a Link Crew Leader during her junior year. She has been in the 4As club during her junior and senior year. She also participated in swim her sophomore and junior year and played tennis junior year.
Mackenzie's high academic ability to read critically and reflect on her learning through writing and discussion has added to her opportunities for growth in her English classes as well as other content areas at Fraser High School. Her skills in writing are beyond her years, and she connects what she learns to larger contexts that will help her outside of high school.
Mackenzie is an amazing student. As a sophomore, she stood out in her Journalism 1 class and took the initiative to add Journalism 2 for the second semester and not wait for the next year. She contributed outstanding work for the school paper and was awarded by Michigan Interscholastic Press Association, out of Michigan State University, for her work. In her Junior year, she shifted her focus to yearbook and was the assistant editor. She was the driving force behind the success of the book in the very challenging 2020 year. She has taken on the role of Editor-in-Chief for yet another extremely challenging year to make a yearbook. She is leading and working extraordinarily hard to make sure the 2021 book is as special as this year. Mackenzie has also taken on the role of President of the Quill & Scroll Journalism Honor Society. With remote learning for the majority of the year so far, it is a challenge to get a club to function. She is leading and encouraging her fellow student journalists to get involved and excel even during difficult days.
---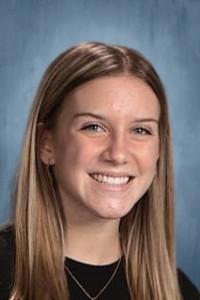 Lindsey Grammatico-Social Studies Student of the Year
Lindsey shows great pride in her work. Her contribution lies in the example she sets for others as a student, teammate, and friend. During the past four years, Lindsey has been a member of Peer to Peer and the Varsity Tennis team. She is a recent nominee for the Daughters of the American Revolution award and is studying to be an Ultrasound Technician and Macomb Community College. Lindsey takes the lead in group discussions and helps contribute to the learning for all students. She has always set a high standard for her work both in effort and presentation. She is a model student.
---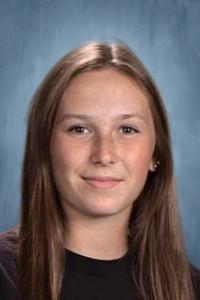 Cassidy Victor - Industrial Technology Student of the Year
Cassidy has been a student of Fraser Public Schools since kindergarten where she attended Eisenhower (K-4) and Emerson (5-6). She has been a straight "A" student since 7th grade. Cassidy has completed 11 semesters of Industrial Technology classes and a total of 14 classes within the CTE Department. She is a three-year varsity volleyball player and was a Captain of the team this year. When she is not playing for FHS, Cassidy lends her talents to Crankit Volleyball Club. Cassidy is currently being recruited to play volleyball at several colleges where she plans on majoring in engineering. Cassidy is also a member of FHS'sFIRST Robotics team and will be our lead designer this year.
Cassidy is a student-athlete who has taken the student part very seriously. Throughout her high school career, she has taken six accelerated classes (12 semesters), two AP classes (English 11 and 12). She currently maintains a 4.045 GPA which ranks her in the top 10 of her class. Her work in class is impeccable. She thinks through her parts/designs so as to best develop/create them. She thinks in a very logical manner and can articulately describe what she is doing and why.
Engineering is one of the most male-dominated professions with women comprising about 14% of the workforce. Cassidy has the ability to break down barriers. She seems to thrive in this environment.
---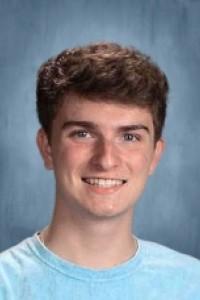 John Vorgitch - Science Student of the Year
John has attended Fraser Schools since preschool. He attended Emerson Elementary, Richards Middle School, and Fraser High School. He's involved in the Fraser Theater Department and Symphony Band and Section Leader of Marching Leader. Tri M Music Honor Society. National Honor Society. In process of creating the Science National Honor Society with Mrs. Christina Petz.
He has taken the following science courses: Biology A/B, Accelerated Chemistry A/B, Accelerated Physics A/B, Advanced Placement Biology, Forensic Science, Crime Scene Science, Environmental Science, Medical Health Science. John has taken and excelled in almost every class that is offered in the Science Department. He loves science and his love of science can be contagious with other students.
He plans on a single major or double major in biology and health in society. He wants to go into governmental public health administration.
---